New Physical Education Uniforms now on sale.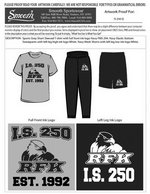 Images of the new uniforms.
Brand New GYM Uniforms Available at RFK!
T-shirts are 10.00 adult sizes
Shorts are 15.00 adult sizes
Sweatpants are 18.00 adult sizes


T-shirts are gray with blue lettering
shorts are dark grey with logo on left side
sweatpants are dark blue with white logo on it.


Please bring Money Orders ONLY!!! Paid to IS 250 .